27 Oct

Friendly International: SCO 0-2 SWE Reaction: Losa positive about performance & Gerhardsson happy with squad depth

Pedro Martínez Losa was buffeted by the wind and peppered by the rain as he stood in his technical area at St Mirren Park on Tuesday night. Yet even after seeing world no.2 side Sweden inflict the first defeat of his reign, it was glass half-full for the new Scotland boss, reports CATHERINE ETOE.

Yes, the Olympic silver medalists had edged this friendly 2-0, courtesy of a wonderful strike from substitute Fridolina Rolfö on 71 minutes and an own goal from Sophie Howard almost at the death. But as far as Martínez Losa was concerned, the chance to try new things against one of the best teams in the world, without the pressure of a must-win hanging over his own players, was a victory anyway.

The head coach mixed it up on the pitch, bringing in Rangers keeper Jenna Fife for Lee Alexander, while Hibernian's Rachael Boyle started in defence and ended the contest wearing the captain's armband.
FA Women's Super League regulars Chloë Arthur, Lisa Evans and Lucy Graham also started, and there were second-half outings for Glasgow City's Jenna Clark, Manchester United's Kirsty Hanson, Lisa Robertson of Birmingham City and Rangers duo Zoe Ness and Jane Ross.
Opposition manager Peter Gerhardsson was of a similar mind, of course, with ten changes from Thursday's 1-0 win over the Republic of Ireland in World Cup qualifying. Captained by the great Nilla Fischer, the visitors still oozed quality, and with the wind at their heels, were denied only by the crossbar, Fife and Erin Cuthbert in the first half.
Chelsea skipper Magda Eriksson joined the fray just before the hour, and within a few minutes of the arrival of Bayern's Sofia Jakobsson, Barcelona's Rolfö and Everton's Hanna Bennison in a triple substitution, Scotland's resistance was finally broken.
Next up are World Cup qualifiers against Ukraine and Spain in November. For now, here's a snippet of what Martínez Losa and Lisa Evans had to say in their post-match chat, alongside a few words from Gerhardsson on the performance, the weather and his favourite Scotland player…Erin Cuthbert.
Pedro Martínez Losa on the performance:
"For me, the performance of the team was outstanding. I think that first goal was more talent! Suddenly, they put the best players on the pitch at the end. This is the kind of distortion that happens in a friendly match because you want to see a few things and give opportunities to players; the opponent also does it. The rest of the game, we can only see as positive; we were comfortable on the ball, we concentrated. The whole team followed the game plan to perfection and that's what we want."
On how a friendly can be beneficial:
"When you play at Hampden Park, you are a slave a little to the result and just want to get the points. Today was more about developing. It was a good learning process, in terms of growing as a team."
On Sweden offering a test ahead of Spain:
"It's more about us, where we are finding our limit. Today, on the ball, we were very good compared to other games and very good compared to the opponent also. Also, defensively we were outstanding; there were not so many clear chances."
On what he said to the players at half-time:
"I told them the game plan is working, just to try to adjust a couple of situations. When we were in low block, we were regaining the ball very easily, but the difficulty is getting out of the pressing and physicality of the players.
"On some occasions, we found a way, which is a credit [to them], and we have been working on that and the principles to help them solve these situations.
"We also encouraged the things we were doing well. We are a new group, a new team, and this 45 minutes was proof of creating a game plan, that [by] having a unity of style, it is possible to compete at the highest level."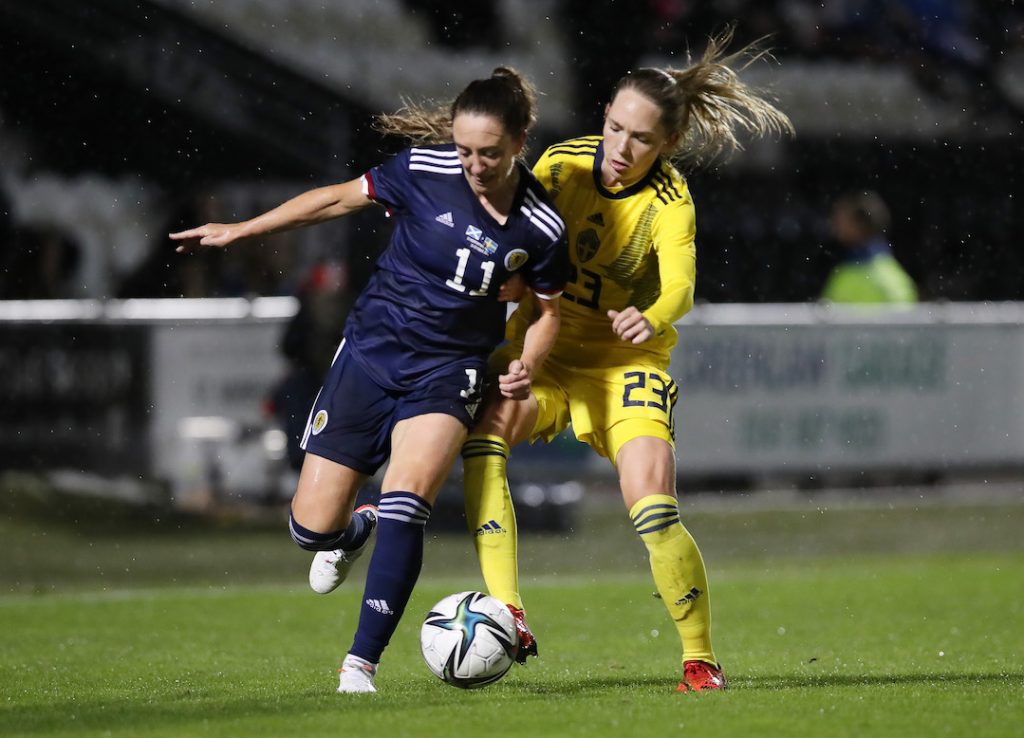 Lisa Evans on the opponents:
"We are playing against one of the best teams in the world. They have so much quality on the ball and we have to look at them and see the standard we can aspire to."
On Scotland's performance:
"I think we were maybe a bit unlucky not to have created a few more chances. We showed a lot of courage. We were playing out and building from the back and playing our football."
On Pedro Martínez Losa:
"I worked with Pedro for a short spell at Arsenal and I know him and know how he wants the team to play. I do think that we're capable of doing what he wants. It is a different style from what we have been doing in the past. With a bit of time, I think we can go far."
On what is needed:
"A lot of the girls here play in high-performance clubs, and lot of the Scottish girls are attached to clubs who are moving to a more professional set-up, and clubs are pushing for better standards. That is what we need. You look at the WSL, Sweden and America, and the facilities they have and how they train, and that is what we need if we want to compete. We need players at the top level and professional athletes, because it is the one per cents that make the difference."
Peter Gerhardsson on his team:
"I think we did a very good game, defensively and offensively. Our strikers did a very good pressing game up in Scotland's back line. There we started defending and we did it very well. They had very few chances today and that's very good."
On the conditions:
"The rain was one thing, but the wind was extreme. I was a little bit afraid before the [start of the] second half to play with the wind against us, that the ball would blow away like in the first half, but we had a good game."
On his team selection:
"Today we had some players who haven't played so much. For us, it shows us that we have a good squad to work with, and for me, it's a good problem for when I look at the squad and put in the starting XI. Football is the starting XI and also the finishing XI and we have some very good answers today for me."
On Fridolina Rolfö:
"She is a very, very good player. We know she is one of the best in the world with her left foot. Now she showed us today that, even with this wind, it didn't stop her shooting."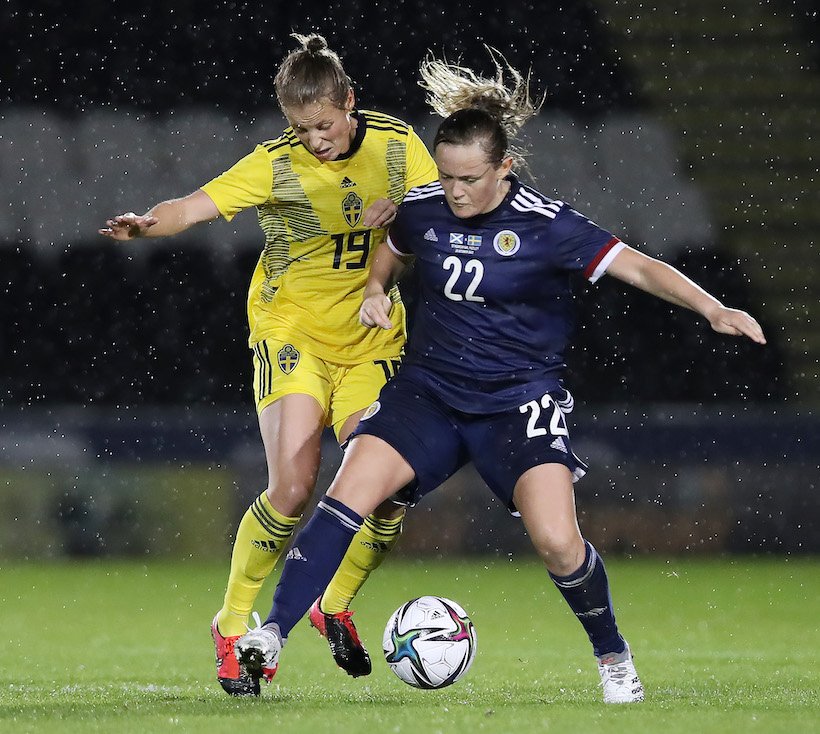 On his stand-out Scotland player:
"From when I took over in 2017, I was watching the European Championship, and Erin Cuthbert was and is one of my favourite players, because she is very good. They have skilful players and we made it difficult for them today, but Cuthbert has a very good technique and I like that kind of no.10 player who is wandering and very difficult to take care of. The Swedish girls this time made it good; maybe Magda [Eriksson] and Jonna [Andersson] talked to them about how we can handle her!"
#FIFAWWC2023 Qualifying Reaction Round-up: Wiegman, Ward & Shiels

Credit: Source link