06 Oct

Set Pieces girls soccer column: New philosophy, renewed confidence have Peabody hitting stride | Sports

Change is hard, but if you listen to Sheryl Crow you know it can also do you good.

That old anthem hasn't been lost on the Peabody High girls soccer team, which underwent some big changes this past summer. Just about six weeks into their new regime, the Tanners are seeing just how good change can be and playing at a level few on the North Shore saw coming.

Now unbeaten in its last five games, Peabody (4-2-3) is thriving under the direction of new head coach Andrew Douglass. He took over after Dennis Desroches was appointed the school's athletic director with some big shots to fill: Desroches won 197 games, nine league titles and a state championship in his 14 seasons.
Early in the year, it looked like the Tanners might be a team in transition. They didn't score in a season opening draw, then gave up five goals in a tough home loss to Danvers. Fast forward three weeks and it's transition that's making Peabody a formidable team, as in the way they pass the ball from one level to the next while attacking opponents.
"We've definitely become more of a passing team," said senior Emily McDonough, the squad's leading scorer. "The team chemistry is so there and I think that's helping us be there for each other on those runs."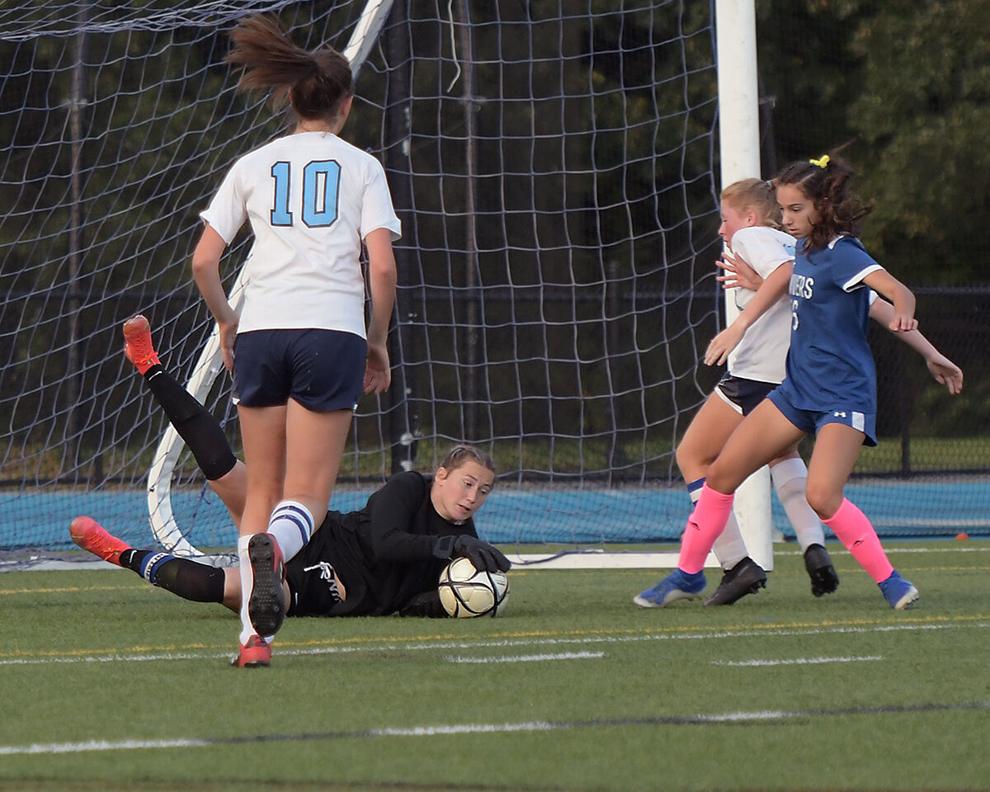 Douglass, a young and tactically sound coach who played at Danvers High and coached Salem to two state tournament appearances, has emphasized pushing the ball forward, somewhat directional soccer and off-ball movement. With each game the team's confidence in that approach seems to be increasing; they've seen results with a resounding five-goal win at rival Beverly and a total turnaround in a 2-2 tie with Danvers last Saturday.
"It's a little different style than we'd had," said senior keeper Emma Bloom, a team captain. "We're passing through the middle and doing a lot of give-and-go's. It's new, but it's working."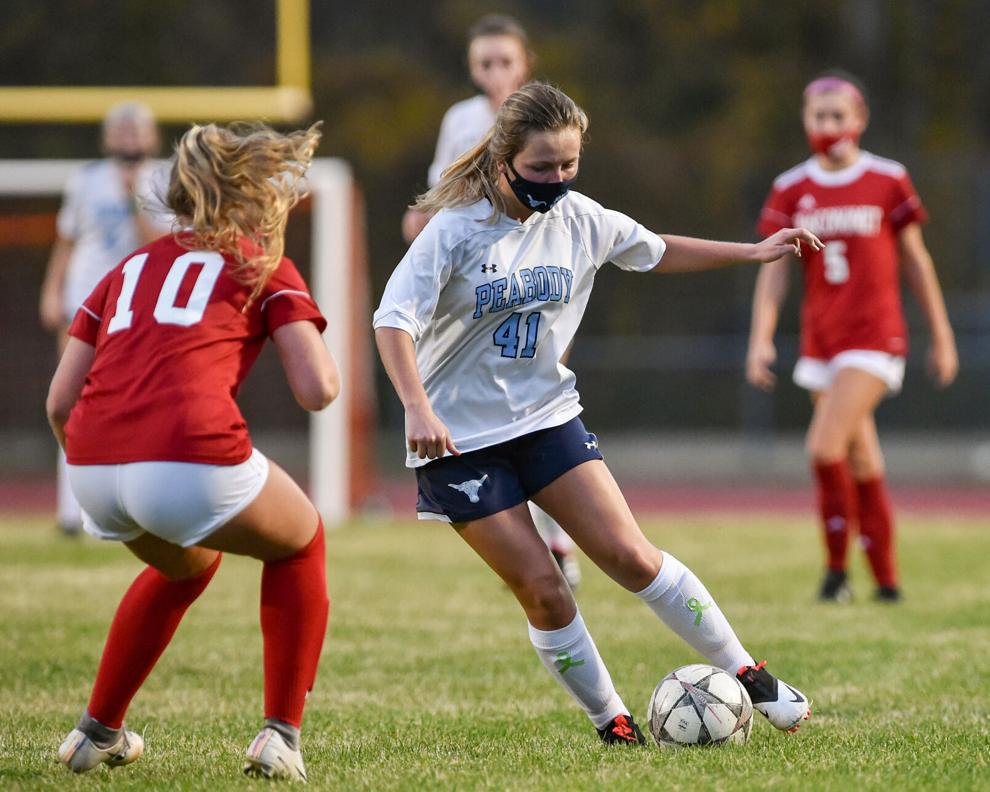 Possession is also built on good defense, and the Tanners have no shortage of that. Bloom, a three-sport captain who will play softball at Assumption College, has been a rock in net with five shutouts over the first eight games. Captains Sam Simmons and Maddy Scacchi have been tremendous in the back end along with erstwhile youngsters Logan Lomasney and Ally Bettencourt.
"We changed our shape a little bit defensively and been doing a great job closing space and mitigating threats," Douglass said. "We try to keep attackers in one place long enough to get an extra supporting player over there … and knowing if anything gets released backwards, Emma's going to have it in her hands is huge."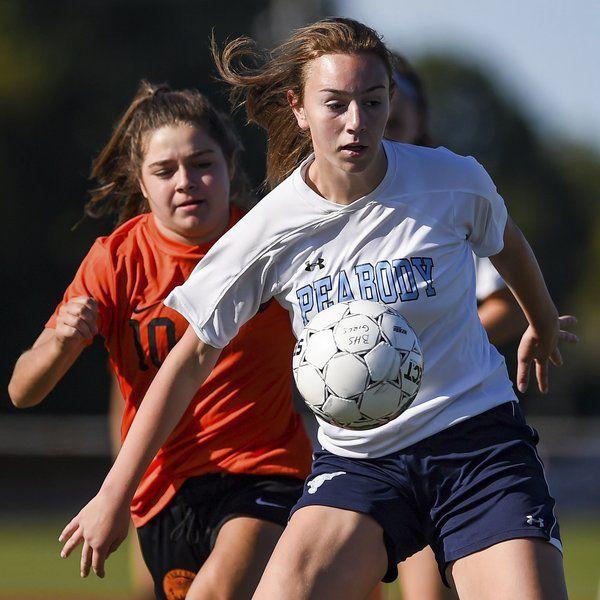 Branae Craveiro has been a revelation for the Tanners at midfield, doing an admirable job both peeling back on defense and pressing forward in the attack. Mid Taylor Bettencourt has been excellent as well, and don't think a slightly different style has taken away the ability to win balls in the air and strike on set pieces that were Peabody's trademark the last 14-plus seasons.
Young attacking mid Connie Patturelli is great on corners and restarts as well as on the run. The same goes for captain McKayla Fisher, the team's leading scorer in 2020 and leader in assists so far this fall.
"We've got a really good mix of seniors with experience and newer players in different roles," McDonough said. "We're all working together as a team and right now that feels really good."
Seniors Lauren Leggett, Ava D'Ambrosio, Abby Leonard and Meghan Billingsley have been big parts of Peabody's success as well. It takes solid senior leadership to overcome getting just one win in the first five games; the Tanners have left that start behind in a hurry with a combination of hard work in practice and belief in their new boss.
"We're starting to become a family, as cliché as that sounds," Douglass said. "They're gaining trust and belief in each other — that can go a long way out there."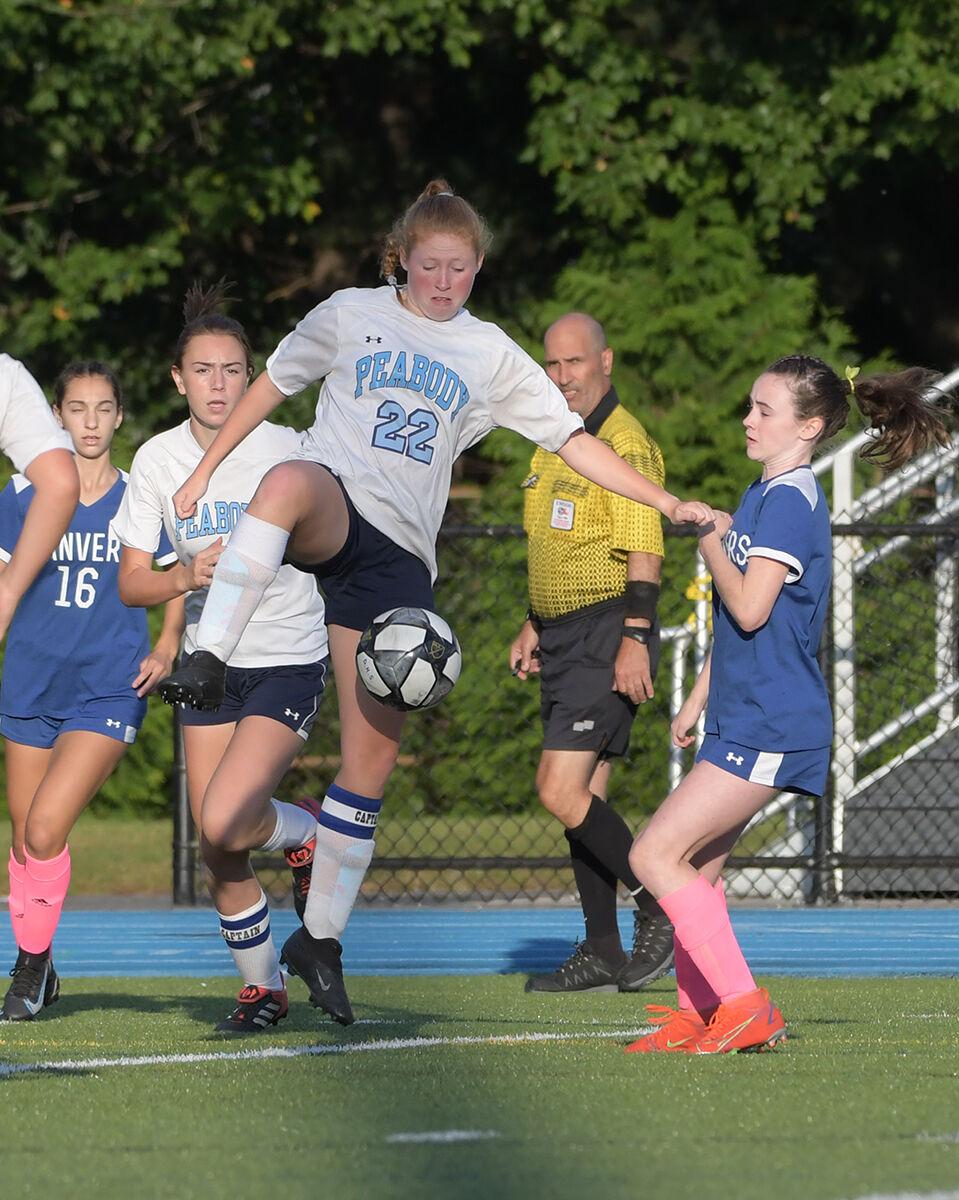 For a program that's made the state tournament every year since 1992, getting to the .500 mark and being back in the Division 1 field is a minimum goal. Peabody has six of its last seven games against tournament contenders like Central Catholic, Beverly, Marblehead and Swampscott, so they'll certainly be battle tested when the time comes.
If they continue to grow at the rate they showed over the last six weeks, and show the resilience they did in the weekend's 2-2 tie with Danvers, they could go a long way.
"If we can compete with Danvers," Douglass said, "we can compete with anybody."

The first Massachusetts Interscholastic Athletic Association power rankings are out; you can view them by clicking the ranking box near the top of the home page at MIAA.net. Noting that the weekend's results aren't inputted yet, it looks like the new formula loves the Cape Ann League.
Hamilton-Wenham is ranked first in Division 5, which is probably where the Generals belong. Senior mid Jane Maguire has caught fire for H-W of late, and and squad has no shortage of dangerous players with Claire Nistil, Annie Moynihan and Ella Schenker all doing damage.
Defenders Libby Collins, Jackie Chapdelaine, Nora Gamber, Christa Coffey and Maddie Wood have helped H-W (7-1) hang three consecutive shutouts in its current five-game win streak.
Ipswich was ranked 18th despite having only two wins, another sign the CAL's relative strength means a lot in this MIAA playoff formula.
It's hard to say how the Northeastern Conference is being rated: Masconomet feels a little low in Division 2 at 21st, since the Chieftains are 7-2 with their non-league games being against the always rugged Merrimack Valley Conference. Danvers (7-0-2) came in a No. 5 in Division 2.
The plan right now is for the MIAA to update the rankings once a week until the tournament begins. The top 32 teams will make the statewide tournament, unless more than 32 have a winning record; in that case there will be preliminary round games to narrow the field to 32.

Bishop Fenwick's historic win over Bishop Feehan last Friday is worth revisiting. The Shamrocks were ranked No. 4 in the country by the United Soccer Coaches Association when the Crusaders came home with a 1-0 victory courtesy of Ally Mitchell's goal and another shutout by keeper Claudia Keith.
Amy Hatfield, McKenna Gilligan, Sam Sharp, McKenna Leamen, Ella Morgan, Keira Morgan and Bella DelVecchio were among the many standouts for the unbeaten Crusaders (4-0-4), who have conceded only one goals in 640 minutes so far.

The last local team to defeat a nationally ranked opponent? Two come to mind: Beverly beat a nationally ranked and previously undefeated Central Catholic team in the Division 1 North final on penalty kicks in 2013 thanks to Caitlin Harty's 50th goal of the year that tied the score in regulation.
Back in 2010, Danvers beat a Peabody team that was ranked No. 12 nationally in a 2-1 thriller at Dr. Deering Stadium.
Any other nationally ranked knockoffs among the North Shore faithful that we've forgotten? Let us know on Twitter @MattWilliams_SN.

Big game coming this Thursday on the grass in Boxford, when Danvers travels for its rematch with Masconomet. The Falcons have beaten the Chieftains in three straight recent meetings. Kickoff is slated for 4 p.m.
Do the Falcons make it a point to practice on grass to prepare for Masco's surface?
"We mix and match the practices anyway," veteran coach Jimmy Hinchion said. "There are so many (Danvers High) teams that use the turf that we couldn't possibly be on it every day. It's good to mix practices on either surface, no matter when the games might be."

Great look for Beverly grad Jordan Butters, who was named Northeast 10 women's soccer Player of the Week after netting three goals for Southern New Hampshire. She had both tallies, including a tiebreaking penalty kick, in a 2-1 win over Pace and also scored in an OT win over Stonehill.
A 100-plus point scorer for the Panthers, Butters has a career-best five goals this year for the Penmen and ranks second in the NE-10 in goals.

Set Pieces a column on North Shore girls soccer, appears in The Salem News during the fall season. Contact Matt Williams at mwilliams@salemnews.com and follow along on Twitter @MattWilliams_SN.

Credit: Source link